FORZA Indoor Soccer Balls & Carry Bag [12 Pack] - Size 5
FORZA Indoor Soccer Balls & Carry Bag [12 Pack] - Size 5
PROFESSIONAL PACK OF SOCCER BALLS & CARRY BAG SET – IDEAL FOR COACHES
Secure Drawstring Closure
Designed with a convenient opening & closing drawstring function, the soccer carry bag is the ideal football coaching equipment for a quick set-up and clean away in large groups.
PREMIUM CONSTRUCTION
Each FORZA soccer ball has been manufactured with longevity in mind, thanks to the premium-grade materials every ball retains spherical shape for a consistent performance.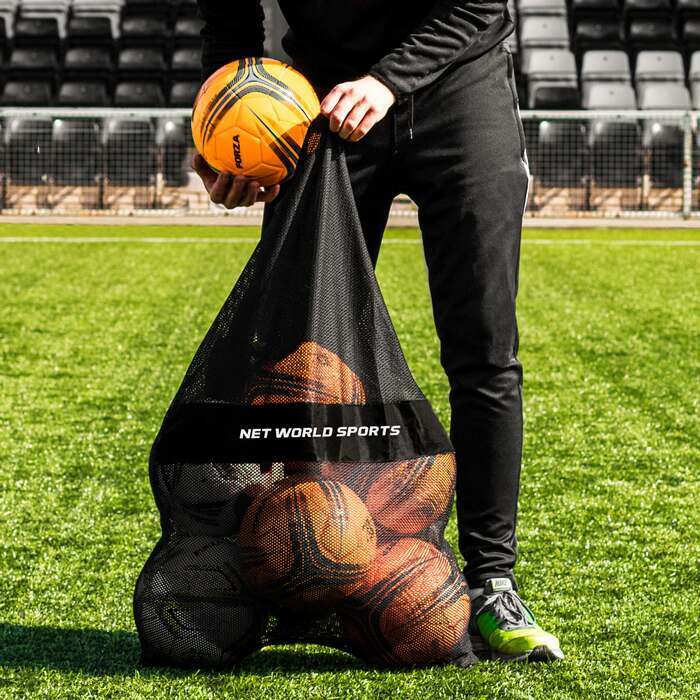 Soccer Balls & Bag Set
A variety of soccer balls can be chosen to suit all ages, abilities & training environments. Durable carry bag is included to comfortably fit footballs when transporting or storing.
Description
HIGH-QUALITY FORZA SOCCER BALLS WITH BALL BAG FOR EASY TRANSPORTATION
Ideal for school, training, matches & tournaments the pack of soccer balls provide high-quality premium soccer balls for various soccer environments & pitches. Available in varied sizes to suit specific age needs & abilities, the long-lasting FORZA soccer balls hold ball shape for many seasons to come. Thanks to the reinforced materials manufactured into each ball. The mesh drawstring bag, spacious in design, provides easy transportation & storage for soccer balls to be carried to and from practice or matches. Moreover, the unique mesh design keeps soccer balls dry and protected from unwanted substances. The soccer bag & pack of soccer balls allow coaches to enhance their training sessions to the next level, whilst providing a quick & efficient clean up after each session.
Various amounts of ball packs & sizes which are perfect for club or school soccer training
Unrivalled FORZA soccer balls offer optimum performance for enhanced play
Ultra-durable mesh carry bag is included for easy transportation & storage
The premium FORZA soccer balls are ideal to suit specific surfaces, ages & abilities
Elite-level match, training, futsal, indoor, astro & beach soccer balls are available
PLEASE NOTE- The soccer carry bag can also be used to transport various other sports balls including basketballs, netballs, Gaelic footballs & rugby balls.
Specifications
Forza Soccer Balls & Carry Bag Specifications
FORZA Icon Pro Match Football
Available in size 3 (kids), size 4 (juniors) & size 5 (seniors)
Size 3,4 & 5 available in packs of 10
Hybrid construction technology for combined power & consistency
6 panel layer with 2500y butyl polyester bladder with pearlized finish
Specifically developed groves enhance the aero dynamic performance
FIFA tested & FIFA Basic (IMS) Certified
Color: White, black & yellow
FORZA Training Soccer Balls
Available in size 3 (kids), size 4 (juniors) & size 5 (seniors)
Size 1 available in packs of 30
Size 2 available in packs of 18
Size 3, 4, & 5 available in packs of 12
EvoGlide surface for optimum consistency
32 panel durable exterior with a reinforced inner bladder
Cushioned foam layer for optimum control
Designed to FIFA IMS specifications
Color: Orange with black & blue design
FORZA Pro Futsal Soccer Balls
Size 4 futsal soccer balls – official regulation size & weight
Size 4 available in packs of 12
Hybrid-Fusion technology - Dual bonded design for combined power & consistency
32 panel exterior with a foam layer for enhanced control
Reinforced & interlaced bladder with core dampener for bounce reduction
Designed to FIFA Quality Pro specifications
Color: White with yellow, green & black gradient pattern
FORZA Indoor Soccer Balls
Size 5 indoor soccer balls – official regulation size & weight
Size 5 available in packs of 12
Super Airtech bladder with a polynylon material exterior
Hand-stitched ball for long lasting use & for superior durability
Specifically designed for use on indoor surfaces
Color: Fluorescent yellow with a black pattern
FORZA Fusion Astro Soccer Balls
Available in size 4 (juniors) & size 5 (seniors)
Size 4 & 5 available in packs of 12
Hybrid-Fusion technology - Dual bonded design for combined power & consistency
32 panel exterior with embossed layer for reliability on artificial surfaces
Reinforced & interlaced inner bladder to maintain the spherical shape
Designed to FIFA IMS specifications
Color: White with yellow, cyan, blue, black & grey pattern
FORZA Beach Soccer Balls
Available in size 3 (kids), size 4 (juniors) & size 5 (seniors)
Size 3, 4 & 5 available in packs of 12
Advanced thermobonded technology offers a true flight
14 panel PU exterior with a high density non-woven backing
Inner butyl molded double sheeted bladder
Designed to FIFA Pro standard
Color: Orange with a black & white design
Mesh Carry Bag
Constructed using knotted mesh material
Maximum capacity to fit 12x size 5 soccer balls
Supplied in black with Net World Sports branding detail
Recently Viewed
6.4m x 2.1m FORZA Alu60 Soccer Goal
R 18 699,00
7.3m x 2.4m FORZA Alu110 Freestanding Stadium Box Soccer Goal
R 64 399,00
FORZA Match Dimple Hockey Balls
R 659,00
5.6m x 2m FORZA Alu110 Freestanding Soccer Goal
R 37 799,00
FORZA 90cm x 60cm Double-Sided Sport Coaching Board [13 Sports Available]
R 1 314,00