Harrier 4.6m Double Sided Parasol Cover
Harrier 4.6m Double Sided Parasol Cover
Premium Waterproof Covers To Protect Overhanging Parasols
100% Waterproof
High-quality cover complete with a weather resistant design to ensure your cantilever parasol is protected outdoors throughout the off-season. The large coverage prevent the parasol becoming exposed.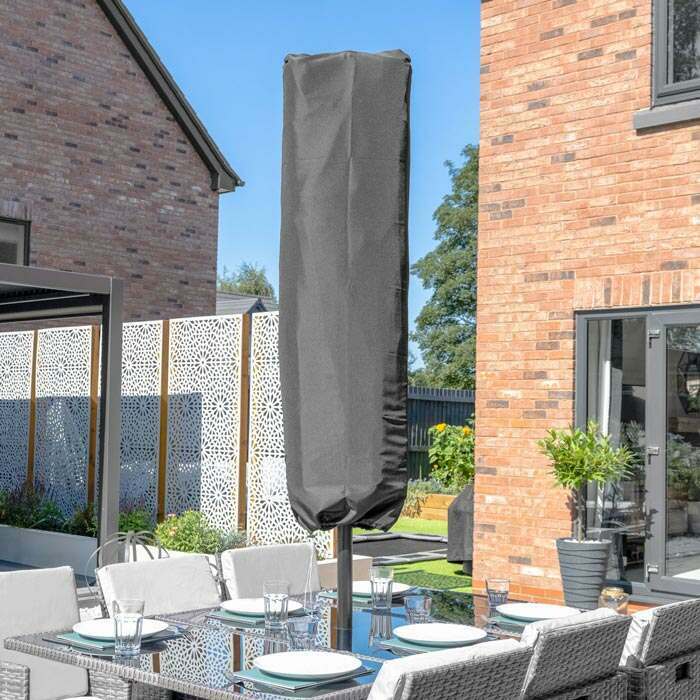 Durable Design
Ultra-durable cover is tear-resistant for long-lasting use. Perfectly suited to fit 2.7m, 3m & 4.6m wide garden parasols to keep the sun umbrella in pristine condition all year round.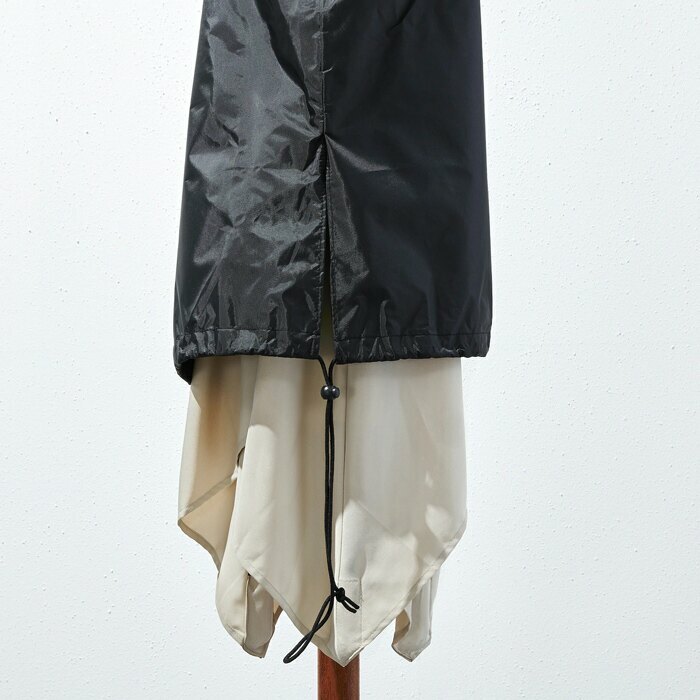 Drawstring Closure
A drawstring rope closure at the bottom securely locks the umbrella cover to prevent it from ballooning or getting blown away by the wind. Easy to install & remove when required.
Description
GARDEN PARASOL COVER - GARDEN UMBRELLA COVER FOR 4.6M X 2.7M PARASOLS
This waterproof parasol cover offers durability and long-lasting protection of parasols. The outdoor parasol cover is compatible with the Harrier 4.6m Double Sided Parasols and other parasols with the same dimensions (4.6m W x 2.7m H). Manufactured from UV treated 180gsm polyester, this heavy duty parasol cover is weatherproof and long-lasting. The parasol cover is complete with a drawstring hem and an adjustable toggle, which secures your large parasol. The large parasol cover was designed with the user in mind; therefore, the cover is easy to install and remove. Supplied in black, the patio parasol cover is perfect for off-season storage. The black parasol cover completes your double parasol set up.
Harrier 4.6m Double Sided Parasol Cover – Giant parasol cover for your parasol
Extra large umbrella covers compatible with 9ft x 15ft | 2.7m x 4.6m (H x W) parasols
Best parasol cover for off-season storage and enhancing the life of your parasol
Black garden parasol cover made from weatherproof & UV treated 180gsm polyester
Parasol umbrella cover is complete with a drawstring hem and adjustable toggle
Net World Sports offers a wide range of Home & Outdoor equipment. For Harrier Parasol Table, Harrier 20kg Parasol Base Weight and more, please see the essentials above.
Specifications
Harrier 4.6m Double Sided Parasol Cover Specifications
DIMENSIONS:
Compatible Parasol Size: 9ft x 15ft | 2.7m x 4.6m (H x W)
MATERIALS:
Made from weatherproof & UV treated 180gsm polyester
Complete with a drawstring hem & adjustable toggle to secure the parasol
MISCELLANEOUS:
Colour: Black
Perfect for off-season storage
Easy to install & remove
Compatible with the Harrier 4.6m Double-Sided Parasols
PLEASE NOTE: COVER ONLY – Garden parasol not included
Harrier 3m Overhanging Parasol Cover Specifications
Dimensions:
Compatible Parasol Size: 2.4m H x 3m W | 8ft H x 10ft W
Materials:
Weatherproof PVC for durability & long-lasting use
Miscellaneous:
Drawstring hem closure with an adjustable toggle to firmly secure the cover
Easy to install & remove from the parasol
Perfect for storage in the winter
Colour: Black
PLEASE NOTE: COVER ONLY – Garden parasol not included
Harrier 2.7m Crank & Tilt Parasol Cover Specifications
Dimensions:
Compatible Parasol Size: 2.4m H x 2.7m W | 8ft H x 9ft W
Materials:
Heavy-duty PVC cover which is 100% weather resistant
Miscellaneous:
Complete with a drawstring hem & an adjustable toggle to firmly secure the cover
Easy to install & remove from the parasol
Perfect for off-season storage
Colour: Black
PLEASE NOTE: COVER ONLY – Garden parasol not included