Vermont Colt Mini Tennis Racket [3 Sizes]
Vermont Colt Mini Tennis Racket [3 Sizes]
Ideal for Youngsters Starting Out - The Vermont Colt Tennis Racket
Every Step Of The Way
Unique to most other mini tennis rackets, the Vermont Colt provides a tennis racket in three sizes, one for every stage of mini tennis – 48cm (Mini Red), 58cm (Mini Orange) & 63cm (Mini Green).
Durable, Quality Racket
The head and shaft have been manufactured from super strong aluminium, which allows them to easily cope with the demands of regular tennis. The durable rackets will also deal with the odd scrape from time to time with exceptional ease too!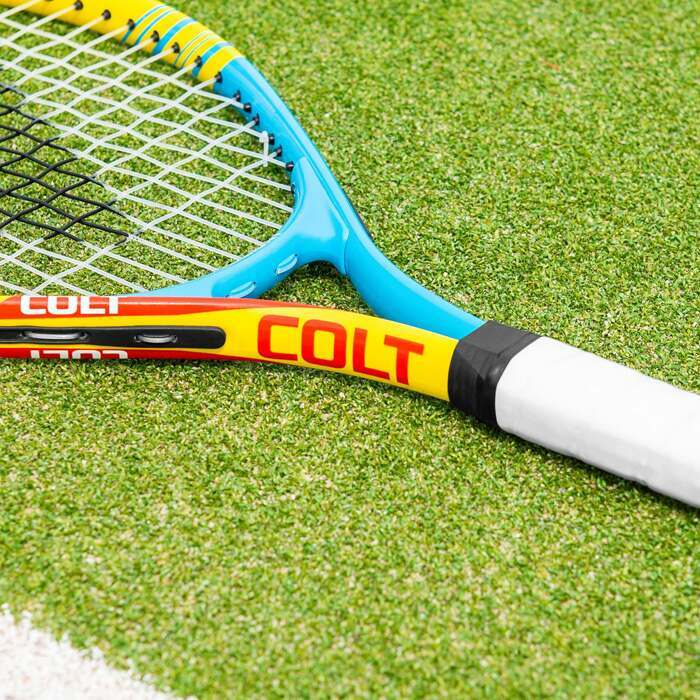 The Perfect Mini Tennis Set-Up
The blue & yellow design that these rackets feature has been made to match our outstanding Vermont ProCourt Mini Sets. There won't be many mini tennis set-ups better than one that has both the Vermont Colt & a ProCourt Mini Set!
Description
Vermont Colt Tennis Racket – The perfect choice for beginners
All three stages of mini tennis hold significant importance in any tennis players career as it's the time where the foundations of their overall game are laid. From the small courts and large balls of mini red (stage 3) to the full size, quicker ball of green (stage 1), the rate of development is rapid as players aim to leave mini tennis fully prepared for the challenges posed by regular tennis. Available in 3 sizes, the Vermont Colt Tennis Racket gives young players the opportunity of continuity throughout the mini tennis period, allowing them to put all their focus on developing their tennis skills.
Vermont Colt Tennis Racket Available in sizes: 48cm, 58cm & 63cm
All three sizes represent a Mini Tennis Stage (red, orange & green)
The perfect choice for ages 10 & Under
Manufactured from extremely durable aluminium throughout the head & shaft
The yellow & blue model has been designed to match the Vermont ProCourt Mini Sets
Each racket features a mini tennis colour indicator on the frame
Every racket comes complete with a head cover
The tough and durable aluminium construction allows these high-quality tennis rackets to cope with the demands of regular tennis without losing their outstanding performance levels. It's understandable that players at this stage of their career are going to miss-time the odd groundstroke or scrape the court on occasion, which is why we made sure this racket can deal with this and more. As well as this, each frame features a mini tennis stage colour indicator added to it, so you can be sure to get the correct racket for your young tennis superstar.
With a racket for every stage of mini tennis; 48cm (red), 58cm (orange) and 63cm (green), the Vermont Colt Tennis Racket will assist a player's development every step of the mini tennis journey. All three sizes feature the uniquely coloured yellow and blue design, so they can be matched up perfectly with our world-class Vermont ProCourt Mini Sets. The combination of the Vermont Colt, paired with one of our ProCourt Mini Sets will ensure you have a mini tennis set-up fit to discover the next global tennis superstar.
Specifications
Racket Sizes:
48cm / 19" (Mini Tennis Red / Stage 3)
58cm / 23" (Mini Tennis Orange / Stage 2)
63cm / 25" (Mini Tennis Green / Stage1)
Dimensions:
String pattern for 48cm (Red) racket: 16 x 16
String pattern for 58cm / 63cm (Orange/Green) racket: 16 x 19
All 3 rackets feature a headsize of 90sq inches
Materials:
The head & shaft of the racket is manufactured from aluminium
The aluminium construction is extremely durable to cope with regular tennis
Miscellaneous:
Rackets feature a blue & yellow design to match our Vermont ProCourt Mini Sets
Each racket features a mini tennis stage colour indicator on the frame
Each racket comes with a head cover
You may also like
Vermont ProCourt Mini Tennis Net & Racket Set
R 2 099,00
Vermont Tennis Court Lines
R 599,00
Jumbo Tennis Rebounder [2.7m x 2.1m]
R 4 339,00
Tennis Ball Hopper - 72 Ball Basket
R 699,00
Recently Viewed
FORZA Slalom Training Pole Carry Bag
R 364,00
Stop That Ball™ - Ball Stop Net & Post System
R 2 099,00
FORB Rubber Golf Mat Base [1.56m x 1.56m]
R 3 899,00
3.7m x 1.8m FORZA Soccer Goal Post
R 2 519,00
METIS Weighted Diving Rings
R 189,00