Ball Launcher Trainer – Soccer Delivery Machine
Ball Launcher Trainer – Soccer Delivery Machine

ELITE-LEVEL BALL LAUNCHER TO CREATE GAME LIKE SCENARIOS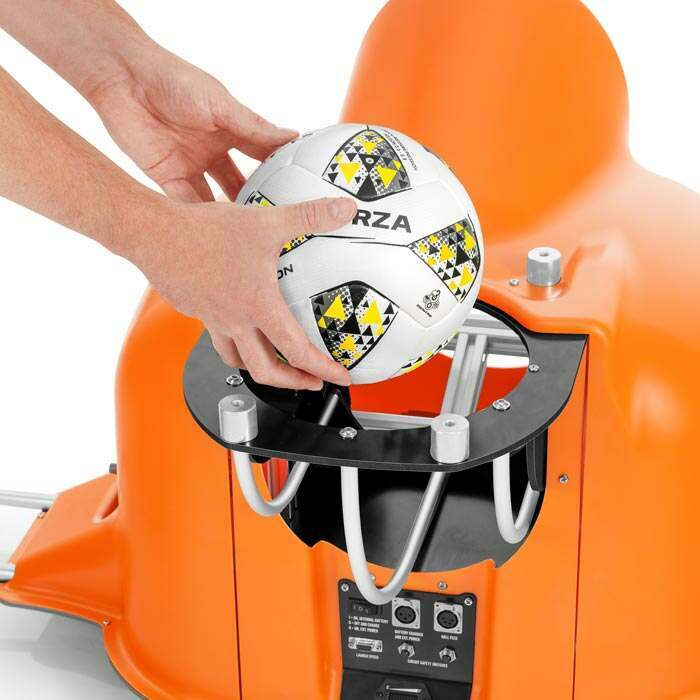 PROFESSIONAL BALL TRAJECTORY
The ball launcher, best used for ball sizes 3 to 5, is designed to simulate match ball trajectory for a professional style of practice. The precise ball delivery increases a better gameday readiness.
HANDS FREE COACHING
Combined with the easy attachable Auto Feeder, the ball shooter can project 200+ accurate footballs per hour hands-free which allows coaches to full focus on player development.
CONVENIANT TRANSPORTABLE WHEELS
Manufactured with wheels to be easily manoeuvred, the pro level automatic ball launcher can be safely lifted by two people & conveniently stored away when not in use to save on space.
Description
Ideal for all ages, abilities & positions, the ball shooter allows players to develop core skills in a continuous manner. The professional ball launcher is designed with an adjustable height to propel soccer balls in any 360-degree direction, which is operated with the easy-to-use hand-held controller. Robust yet lightweight enough to be lifted by two people, the ball launcher is designed with wheels for simple manoeuvrability. Optional Auto Feeder , which can hold a maximum of 6 balls, can be easily attached for hands-free coaching, whilst the Speed Boost Plug enhances ball speed to 55mph (88.5kph). The elite-level ball machine allows a safe ball speed of 30mph (48.2kph) – 55mph (88.5kph), which can vary the training drills to improve first touch, catching, finishing and reflexes for optimised training in all-weather conditions.
Hands-free coaching & training when combined with ball feeder & controller
Increases players first touch, finishing, reflexes, catching & all-round soccer game
Ball thrower can distribute precise trajectory in all directions & multiple heights
Provides a safe ball speed between 30mph (48.2kph) – 55mph (88.5kph) which minimises player injury
Additional spin can be added towards ball delivery to simulate the game-like feel
Net World Sports offers a wide range of soccer equipment. For more, please browse the Soccer category above.
Specifications
BALL LAUNCHER TRAINER – SOCCER DELIVERY MACHINE SPECIFICATIONS
WHAT YOU GET:
1x Ball Launcher Trainer – Soccer Delivery Machine
1x Battery Charger with UK plug
1x Microfibre towel
1x Remote Controller
DIMENSIONS:
Weight: 31kg | 68lbs
Ball Launcher Trainer (H x W x L): 86cm x 73cm x 96cm | 34in x 28.7in x 37.8in
(Optional) Auto Feeder (H x W x L): 107cm x 61cm x 131cm | 42in x 24in x 51.5in
(Optional) Speed Boost Plug (H x W x L): 5cm x 5cm x 3cm | 1.9in x 1.9in x 1.18in
SPEED & SPIN:
Max speed: 30mph | 48.2kph
Optional Speed Boost Plug speed: 55mph | 88.5kph
Left and right ball spin
MISCELLANEOUS:
Only use ball sizes 3, 4 and 5
360-degree launch direction
-3 to +22 degrees launch height
Up to 4 hours of use
4 hours recharge time
Manual ball feeding
Reload time 3 seconds
Includes microfibre towel
Instruction manual is included
(Optional) Auto Feeder holds maximum of 6 balls
Optional Auto Feeder: Balls launched automatically at 3, 5 or 8 seconds
Please Note: Adapter charger plug is needed for use outside UK.