3.7m x 1.2m FORZA Alu110 Freestanding Soccer Goal
3.7m x 1.2m FORZA Alu110 Freestanding Soccer Goal

12 x 4 FORZA Freestanding Soccer Goal - Perfect Size For 5 A Side!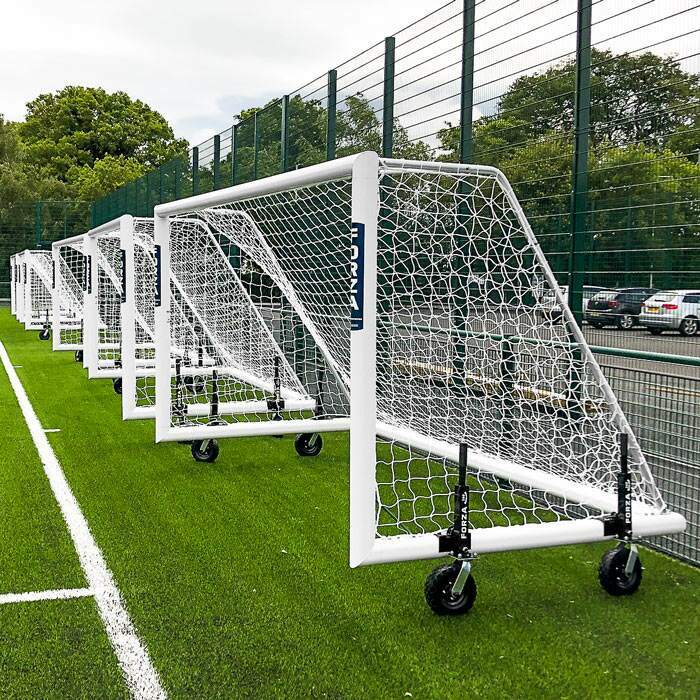 Upgrade To 360° Wheels
Add our revolutionary 360 degree wheels and move your soccer goal into any direction with ease. Developed alongside Manchester United, the wheels are a must-have for any soccer groundsman.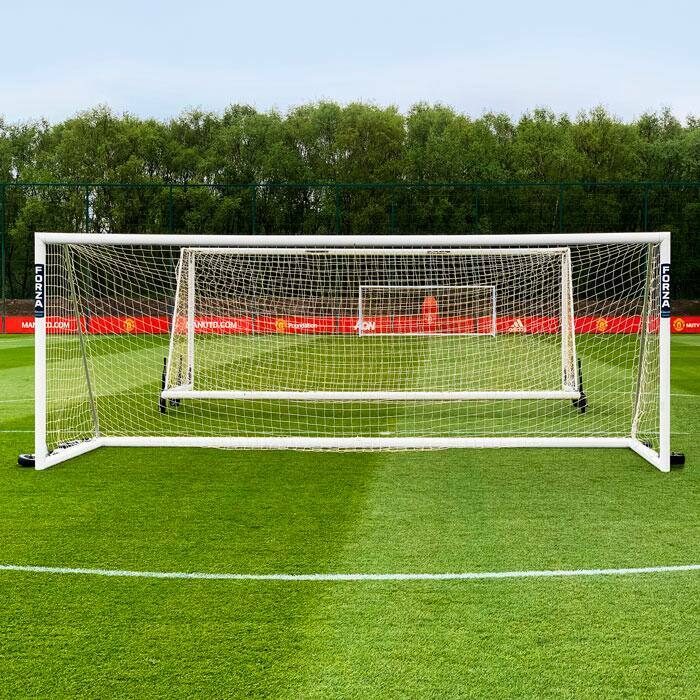 Professional Junior 5-A-Side Goal
As seen on Manchester United's training ground, the top of the range alu110 soccer goals are made from the finest materials for optimal soccer performance.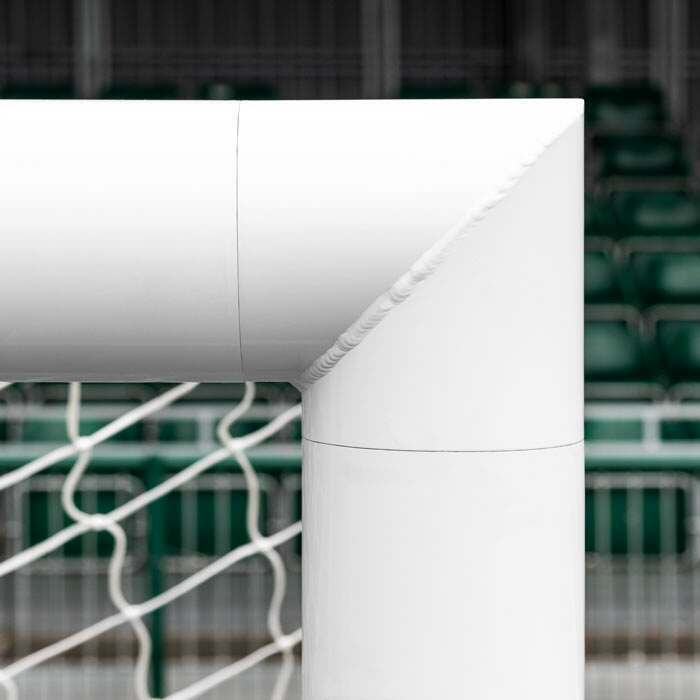 Heavy Duty Welded Corner Joints
Embodying unparalleled durability and a heavy-duty design, the freestanding goal has been designed with welded corner joints which are better than mitre
Description
Play Like The Pro's With This Official Sized Aluminum 5-A-Side Soccer Goal
This 3.7m x 1.2m freestanding FORZA Alu110 soccer goal is the official size for 5-a-side matches. 5-a-side is a smaller-sided version of soccer which can be enjoyed by all ages both indoors and outdoors. This top of the range 5-a-side soccer goal will ensure the highest standards of soccer excellence are met.
3.7m x 1.2m freestanding soccer goal ideally sized for 5 a side matches on outdoor and indoor matches alike
Heavy duty soccer goal posts have been made from 110mm reinforced powder coated aluminium which is also scratch-resistant
Incredibly robust yet deceptively light in weigh goal which retains its portability and can be moved by two people
Optional heavy duty lever type black rubber soccer goal wheels which feature a CAM mechanism to raise the goal up to 100mm
Optional internal counterbalanced weights for enhanced health and safety which slot within the profile of the goal
With this 3.7m x 1.2m FORZA freestanding Alu110 soccer goal you'll be bringing a touch of A-League quality to your 5-a-side battles. The robust, aluminium structure means these goals are totally unrivalled when it comes to strength and quality in their field. A professional quality soccer goal, the sturdy framework is 100% weatherproof and comes equipped with a 5mm HDPE braided goal net. FORZA Alu110 soccer goals are the goal of choice for A-League clubs as well as worldwide professionals.
The strong and robust manufacturing of the fully welded aluminium frame ensures that this goal is highly durable and can adapt to any playing surface with ease. This allows the goal to stand firm and look great in both indoor arenas and outside on Astroturf and 4G pitches. The freestanding nature of this soccer goal means that whether it's a luxurious, finely cut grass pitch or an indoor wooden 5-a-side court, this goal will be right at home, delivering quality for all players to enjoy to the fullest all year round. For additional health and safety precautions, internal counterbalance weights can also be added to prevent the goal from overturning.
While this heavy-duty soccer goal has been designed to withstand the cut and thrust of regular use, it is also easy to move. The 5-a-side soccer goal is light in weight as well as being incredibly robust, meaning that its position can be transported. In order to make the goal even easier to move, you can upgrade your goal package to include our unique lever and puncture proof wheel system, and you'll be moving this goal around the pitch with virtually no effort at all.
Upgrade your goal:For an even greater soccer experience, then why not upgrade your goal to include our innovative lever type system with puncture proof wheels for increased mobility. The unique cam mechanism lifts the goal onto the wheels without requiring any manual lifting – simply pull the lever and your good to start moving the goal. The puncture resistant wheels are extra wide with deep diamond patterned tread to stop them from sinking in wet muddy ground when static and ensuring excellent mobility is still retained on all types of surfaces.
Add internal counterbalance weights to your goal for the ultimate in stability and safety. The hard-wearing weights have been moulded to simply fit into the goal with ease, preventing it from overturning during use. These weights are a professional quality addition, and will enhance the rigidity and safety of your soccer goal
Net World Sports is proud to stock a comprehensive range of high-quality freestanding FORZA Alu110 soccer goals coming in a range of sizes. Each of our Alu110 goals conform to worldwide match regulations set by the FA, MLS, A-League, UEFA and FIFA. They have also undergone rigourous independent testing to BS EN 748/8462 safety standards - To view the video of the testing process please click here. If you wish to download a copy of the safety certificate, please a href="https://nwscdn.com/media/wysiwyg/Safety-Certificates/FDC12X4FORZAALU60FREESTANDINGGOAL5ASIDE.pdf">click here. Net World Sports is also recognised by the FA as a suitable supplier of soccer goals.
The FORZA Alu110 range has been designed with power, strength and precision in mind. The goal retains all the FORZA characteristics of being great value for money and ultra-reliable but now possesses the additional qualities of being bigger, stronger and better than ever!
Specifications
Dimensions:
FORZA Alu110 goal size (width/height) 3.7m x 1.2m (12ft x 4ft)
3.7m x 1.2m soccer goals are recommended for 5-a-side matches and senior practice sessions
FORZA goal top runback: 46 CM (18in, approximately 1.5ft)
FORZA goal bottom depth: 121 CM (48in, approximately 4ft)
Materials:
Club spec goal is manufactured from 110mm diameter reinforced aluminium and powder-coated white
Aluminium goal frame provides fantastic protection against rust and corrosion
Each goal includes a heavy duty and weatherproof white 5mm HDPE braided soccer net plus twist & lock-style net clips for easy attachment
Miscellaneous:
Each individual goal will be delivered in 3 boxes – (Wheels/Weights will come individually boxed)
Goals will be delivered in flat pack form and will require assembly
It is advised that the following tools would be useful to help with assembly: mallet, wrenches, ratchet with sockets
1 year guarantee as standard with all FORZA soccer goals
Please Note: This goal has been independently tested to BS EN 8462 safety standards. To view the video please click here.
You may also like
3.7m x 1.8m (12ft x 6ft) FORZA Alu110 Socketed Soccer Goal
R 13 159,00
3m x 2m (10ft x 6.5ft) FORZA Alu110 Socketed Futsal Soccer Goal
R 12 899,00
Stop That Ball™ - Ball Stop Net & Post System
R 2 239,00
3.7m x 1.8m FORZA Alu110 Freestanding Soccer Goal
R 27 999,00
4.9m x 1.2m FORZA Alu110 Freestanding Soccer Goal
R 32 199,00