RapidFire RF Soccer Rebounders [3 Sizes]
RapidFire RF Soccer Rebounders [3 Sizes]
Foldaway Soccer Rebounder With An Adjustable Trajectory
Fixed Or Handheld Rebounder
Fitted with quick-release pins, the detachable design of these soccer rebounding nets allows them to be used freestanding or as a handheld training net for goalkeepers.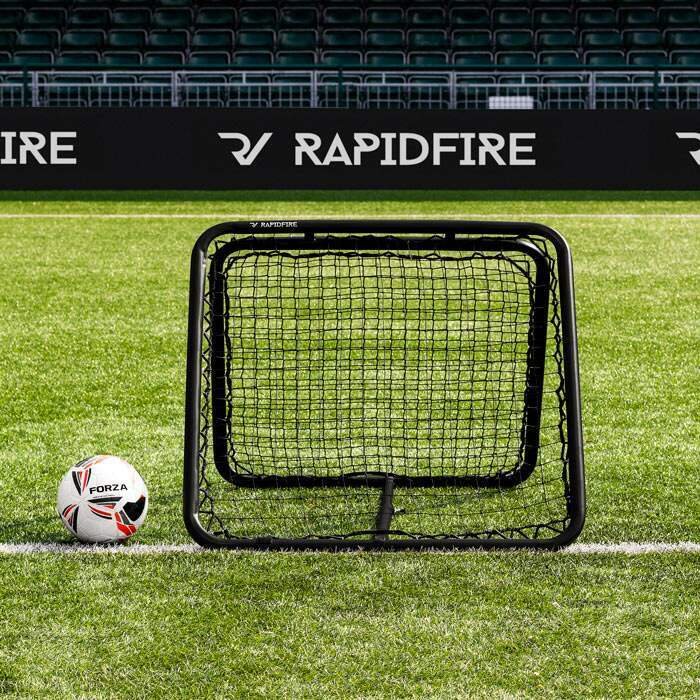 Two Nets For Varying Delivery
The double-sided soccer bounce back nets feature different grades of netting, with the knotted side offering an unpredictable bounce and the other providing a consistent bounce.
Foldaway Soccer Bounce Net
Designed with an innovative adjustable function, the soccer kickback net comes equipped with a detachable base which folds the frame away with ease for storage and transport.
Description
Adjustable Soccer Training Rebound Nets For Freestanding Or Handheld Use
Revolutionize your soccer training sessions with the RapidFire RF Soccer Rebounders. Double-sided soccer rebound nets which are suitable for coaches at all levels of the game, the adjustable bounce back nets feature two grades of netting, each provoking varying ball behaviour. The knotted side gives off an unpredictable and erratic bounce, while the other is smoother and more consistent, allowing coaches to work on a wide range of drills with one piece of equipment. Fully detachable, the soccer bouncing net can be used as a standalone freestanding rebounder, or it can be taken apart with ease to transform into a handheld soccer rebound net.
Multi-skill soccer rebounder net which can be used as a freestanding or handheld training net due to its detachable design
Double-sided soccer bounce back nets with an erratic knotted mesh on one side while the other provides a consistent bounce
Each frame is manufactured using 1.5mm thick gloss black powder-coated steel while the large rebound area is tight up to the frame
Quick and easy to assemble rebounder with quick-release pins and adjuster which folds the frame away after use for storage and transportation
Low-profile design which allows the soccer rebounder nets to fit into a car boot with ease, while the non-slip feet allow them to be used on all surfaces
Expertly designed to provide convenience to all coaches, the foldaway soccer rebounder is fitted with an innovative adjuster which allows the kick back net to be folded flat for storage. The low-profile design of the soccer training rebounder net makes it compact enough to fit into a car boot with ease. The adjuster also allows the trajectory of the ball delivery to be altered, ensuring that the soccer is received at the perfect height for specific drills. A versatile piece of training equipment, it can also be used as a goalkeeper rebounder for catching practice. This versatility allows the soccer rebound delivery net to be used for heading, volleying, passing, ball control and more.
Manufactured from high-strength 1.5mm thick steel, the ultra-durable training rebounder for soccer is capable of performing at its peak for multiple seasons without incurring damage. Finished with a gloss black powder-coating, the freestanding soccer rebounding net is protected against rust and corrosion associated with all-weather training. Built with quick-release pins, the soccer rebound net requires minimal setting-up, while its in-built non-slip feet allows it to be used on any soccer playing surface, including grass, astroturf, 3G, 4G and hard indoor pitches.
PLEASE NOTE – The RapidFire RF Soccer Rebounders are also suitable for a wide variety of other sports, including Gaelic football, basketball, hockey, rugby, cricket, football and more.
These innovative double-sided soccer rebounders are a part of the wider RapidFire Soccer Rebounder range. To view the entire range, please click here.
Specifications
RapidFire RF Soccer Rebounder Specifications
Dimensions
RapidFire RF80 Soccer Rebounder
Overall Rebounder Size – 2.5ft x 2.5ft (75cm x 75cm)
Side 1 Target Area (L x W) – 2.1ft x 2.1ft (63cm x 63cm)
Side 2 Target Area (L x W) – 1.9ft x 1.9ft (58cm x 58cm)
RapidFire RF100 Soccer Rebounder
Overall Rebounder Size – 3ft x 3ft (94cm x 94cm)
Side 1 Target Area (L x W) – 2.8ft x 2.8ft (85cm x 85cm)
Side 2 Target Area (L x W) – 2.5ft x 2.5ft (78cm x 78cm)
RapidFire RF150 Soccer Rebounder
Overall Rebounder Size – 4.5ft x 3ft (138cm x 94cm)
Side 1 Target Area (L x W) – 4.2ft x 3ft (129cm x 86cm)
Side 2 Target Area (L x W) – 4ft x 2.5ft (121cm x 78cm)
Materials
Rebound Net (Side 1) – 1.5mm HDPP, 48mm knotted mesh (unpredictable bounce)
Rebound Net (Side 2) – 2mm HDPE, 30mm knotless mesh (consistent bounce)
Rebounder Frame – Premium 1.5mm black gloss powder-coated steel
Miscellaneous
Rebound nets can be used vertically or horizontally
Quick release pins also allow users to convert to a handheld rebounder
Features a fully adjustable angle functionality
Light-in-weight, ultra-durable & super easy to transport
Rebounder folds completely flat for simple storage
Low-profile design allows the rebounder to fit into a car boot
Large rebounding area which is tight all the way up to the frame
RapidFire RF Soccer Rebounders can also be used for cricket, hockey, rugby, football, GAA Gaelic football, hurling and more
You may also like
RapidFire Mega X Soccer Rebounder
R 4 599,00
RapidFire Handheld Soccer Rebounder
R 1 074,00